Speakers

Check out the mini-curriculum, just click on the Speaker's name: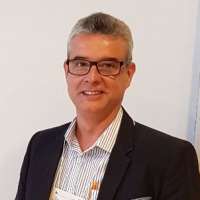 PAULO ROBERTO MACIEL LYRA
PAULO ROBERTO MACIEL LYRA
Full Professor in the Department of Mechanical Engineering at Federal University of Pernambuco (UFPE), where he is the Leader of the High Performance Computing on Computational Mechanics (PADMEC) group and Responsible for the Implantation and Head of the Research Institute on Petroleum and Energy LITPEG - UFPE (Integrated Laboratories on Petroleum, Gas and Biofuels Technology with 12 Labs and 13,300 m2 of labs facilities, being also the head of the Scientific Computation and Visualization Laboratory). He has been a Research Fellow from the Brazilian National Scientific Research Council (CNPq), and Permanent Member of the Graduate Programs on Mechanical and on Civil Engineering. Lyra is a member of the General Council of the Brazilian Association on Computational Methods in Engineering and a Brazilian representative in the International Association for Computational Mechanics (IACM) General Council, IACM Fellows Award 2020, and Member of the Steering Committee of the PRH48.1 ANP (Brazilian National Agency for Petroleum, Gas and biofuels) human resources training program. Lyra holds the following degrees in Civil Engineer: BS from UFPE (1984), an MS (1988) from Federal University of Rio de Janeiro (COPPE-UFRJ) and a PhD (1994) from University of Wales at Swansea (UWS), with a postdoctoral assignment (Research Assistant) at UWS (1995) and at Massachusetts Institute of Technology (MIT) (Visiting Associate Professor) (2002–2003) in Computational Mechanics. He has coauthored more than 350 research publications in referred journals and in conference proceedings on different subjects. Coordinator and/or Participant on several Projects (over US$ 75 millions granted). His main research areas of interest are computational fluid dynamics (compressible and incompressible fluid flow, reservoir simulation: alternative formulations (FEM, FVM, Spectral methods), multiscale/multiphysics methods), high performance computation (HPC) (data structure, multigrid, parallel computation), coupled problems (FSI, T-F, T-S), bioheatransfer, computational modeling (FEM, FVM, meshing, adaption), optimization and inverse problems.

---